It's Fall!!!! I know it's only been Fall for a few days, but I have been thinking about it for months! I love this time of year! It's such a beautiful display of God's handiwork!
"Then God looked over all he had made, and he saw that it was very good!"
(Genesis 1:31)
I've never made one of these before, but I saw this really neat idea over at
Love Bakes Good Cakes
, and I love it!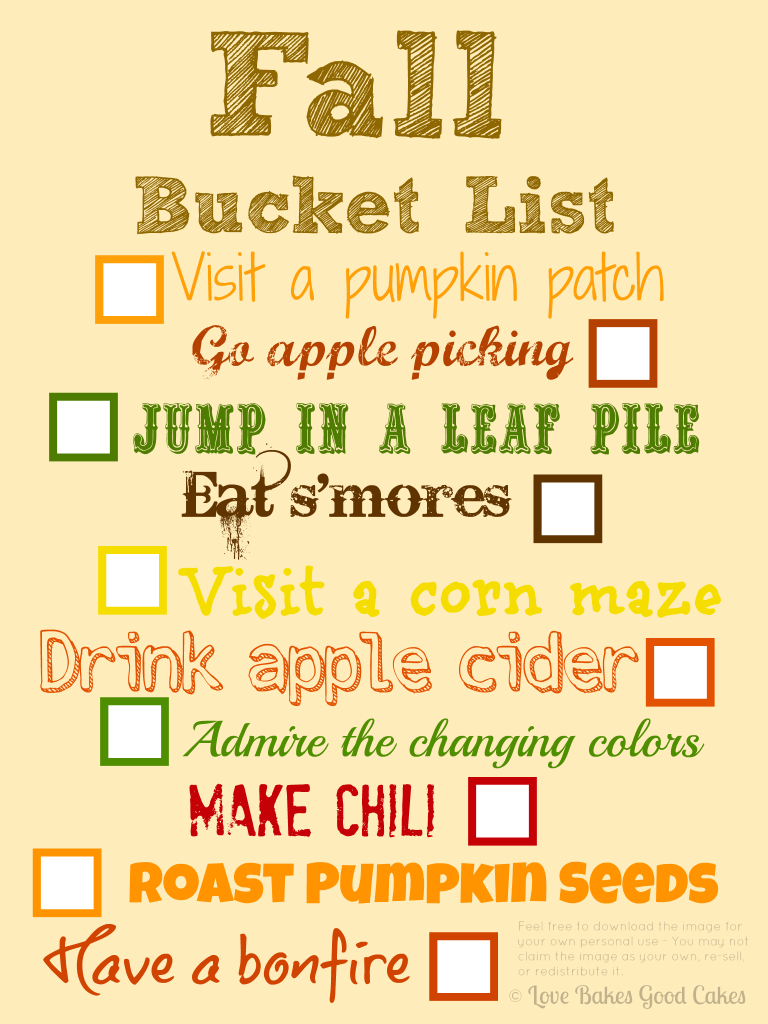 A Fall Bucket List! Cute, right?
(For the free 8x10 printable of this, click
here
.)
I'm already planning on doing most, if not all, of the things on the list, but I'll definitely be adding more. I can't wait to start checking things off with my kids. I know they will absolutely love this too!
I also found this:
It's got some great ideas and almost every activity has a link with more information.
(To check it out, click
here
.)
The thing I'm most looking forward to checking off this list is visiting a pumpkin patch...Or drinking apple cider...Or maybe having a bonfire...and eating s'mores. Well, I guess I don't have a favorite Fall activity - I love them all! Everything is just so pleasant this time of year. The weather, the sights, the smells, the flavors, the activities...
My birthday is next month, which also adds to my love of Fall - I LOVE my birthday. I may have a hard time choosing my favorite Fall activity, but I am 100% sure that my favorite thing to do for my birthday is to go to a pumpkin patch. My husband and I have gone to a pumpkin patch for each of my birthdays since we met, and I love that my kids will by my excuse for continuing the tradition for many years to come!
Here are some things I want to add to my Fall 2012 Bucket List:
Carve a pumpkin

Make tons of pumpkin recipes...especially desserts

Make homemade applesauce with fresh orchard apples

Go on a hayride
Get or make more Fall decor
Make fun Fall crafts and treats with my kids
Eat lots of candy corn
Buy a cute scarf...and actually wear it
Take the kids to a football game

Go camping

Drive to a nearby state park and walk the trails

Regularly sit outside with my Bible and coffee before my kids wake up
And the most important thing on my list:
Check off all the activities on my bucket list!
What are your favorite things to do in the Fall? Do you already do the things on this bucket list? What about the things I added? Something else entirely? Leave a comment below and share!
Happy Fall!